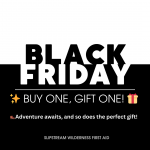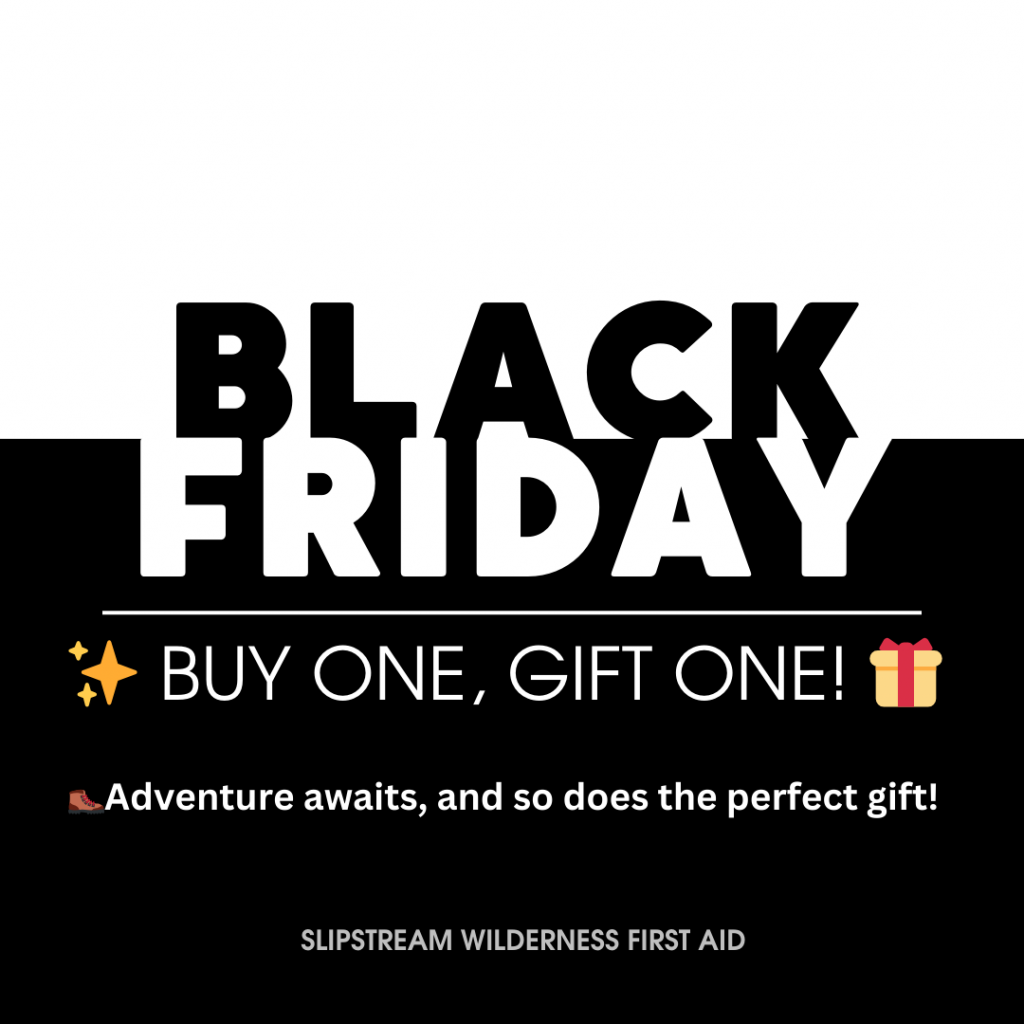 🌲✨ BLACK FRIDAY SPECIAL! 🌲✨ Buy One, Gift One! 🎁
Unwrap Adventure: Black Friday "Buy One, Gift One" Special! 🌲✨
This Black Friday, we're turning your thirst for adventure into a gift-giving extravaganza! 🎁 Slipstream is thrilled to present our exclusive "Buy One, Gift One" offer on our renowned Wilderness First Aid courses – because nothing says love like the gift of safety in the great outdoors! 🏞️
🚀 Embark on a Learning Journey:
👉 WFA 20-Hour Fundamentals Course: Our 20-hour Fundamentals course is the key to unlocking the mysteries of Wilderness First Aid. Self-paced learning meets world-class instruction in our Online Campus, providing the foundational knowledge for your wilderness ventures. 📚 From basic first aid to essential survival skills, this course is your gateway to the wild!
👉 WFA 35-Hour Practitioner Course: Ready to take your wilderness skills up a notch? The 35-hour Practitioner course dives deep into the essentials of Wilderness First Aid, laying the groundwork for our advanced training. Gain access to Slipstream's expert instructors and immerse yourself in a learning experience that transcends boundaries! 🌿🏕️
🎁 The Gift of Knowledge: But wait, there's more! This Black Friday, when you enroll in either the 20-hour Fundamentals or the 35-hour Practitioner course, you'll receive an additional course to gift to a friend or adventure buddy! 🤝 Double the adventure, double the knowledge – because sharing is caring, especially when it comes to safety in the great outdoors. 🌳💙
👥 For the Wild at Heart: These courses are tailor-made for individuals who live, play, or work in non-urban, remote, or wilderness environments. Whether you're a seasoned adventurer or just starting to explore the wild side, our courses are designed to empower you with the skills needed for any expedition. 🧭🌲
🌟 Secure Your Spot: Don't miss out on this extraordinary opportunity to gift adventure and knowledge! Secure your spot now, and let the wilderness journey begin. 🎉🌍 #BlackFriday
🚨 Limited time offer ending on November 27, 2023.